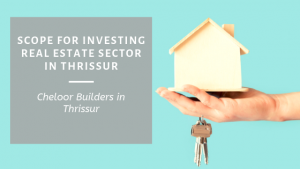 Cheloor is the one of most famous builders in thrissur. The cultural capital of Kerala, Thrissur is the third largest urban agglomeration in the state. The requirement for residential and commercial properties is increasing day by day, providing a great boost to the real estate sector in Thrissur. With the heavy rise in demands for the property, the builders in Thrissur are now coming up with more and more state of the art projects including Flats, Apartments, Villas, Showrooms, Office Space, Business Center, Warehouse, Industrial Building, etc. The fact is that no projects in Thrissur are failing in raising investment and the core reason behind is the enormous scope for investing in the real estate sector in Thrissur.
For a buyer, the main highlight is that each and every locality in Thrissur is safe for a real estate investment. The top localities like Peringavu, Ayanthole, Patturaikkal, Poothole, Punkunnam, Pamboor, Viyyur, Kanattukara, Mission Quarters, East Fort, etc. are the hubs for reliable and cost-effective properties. In 2020, even spending over a 1 BHK flat in Thrissur can assure you a steady and stern return of investment.
Why should you Choose Thrissur for your Real Estate Investment?
If you are a property seeker looking for the right investment in the real estate sector, the residential and commercial properties in Thrissur will never disappoint you.
Factors for Investing Builders in Thrissur
Return of Investment or ROI

The rise in demand for property
A better money saving option
Tax benefits are many
Rich cultural environment
Easily buy a property
Flexible payment option
Return of Investment or ROI
Making an investment is worth only if it can offer you good returns. In real estate investments chances for getting cheated are many. The right property at the correct location can only assure you a return of investment. Thrissur like a growing district can guarantee you safe returns in investment since the demand for land and properties is increasing tremendously. Any property from reputed builders in Thrissur can offer you an assured ROI.
The rise in demand for property
The year 2019 marked a great increase in the demand for properties in Thrissur. The flats in Thrissur are the best selling ones. If you are planning to buy an asset for housing, you are going to own a home at one of the best parts in Kerala. If your intention is for buying a property for leasing or renting, in this blooming commercial hub, you will get a positive cash flow at all times. Again if you are reselling the property after years, sure you will get at least double the amount you are spending now.
A better money saving option
Real estate investment is considered as the best money saving option by many. The simple logic behind is that no property at a developing location can face a depreciation in value. The reality is that, when you invest an amount of money as a fixed deposit in any bank account, it will only bring you a minimum profit as compared to the Thrissur real estate properties would offer you. The cost of real estate only increases with time, making it a secure profit option.
Tax benefits are many
The tax benefit is an added benefit when it comes to investments in real estate. But most people are not aware of these benefits. One of these benefits is the tax deduction that can be claimed for the mortgage loan interest that is paid for a property. If you are planning to invest in a property located in Thrissur, you can consult of these benefits from an expert to get specific benefits related to it. Hence if you are reaping these tax benefits, that will be a great value proposition for your investment.
Rich cultural environment
At the cultural capital of Kerala, you will get an extra benefit of a rich cultural environment. Thrissur is considered as the land of festivals and celebrations. The Thrissur Pooram brings the whole world to the land. The cultural importance of the district makes it one of the best investment options in Kerala. A flat at Thrissur can be a good second home to celebrate your holidays. During the festival seasons, the properties at Thrissur are of high demand by visitors or tourists. You can either use it as an economical stay option for yourself or give for rent.
Easily buy a property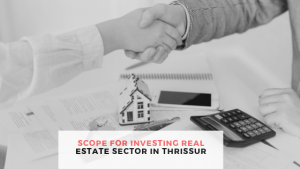 You can easily buy a property at Thrissur. There are a number of good and profitable options to buy property. Also, there are very convenient choices to sell the same. Top builders at Thrissur are already ready with cutting edge projects. All you want to do is to reach a point of decision to buy a property at Thrissur. The rest part can be handled swift and smart.
Sell properties any time
At Thrissur, you will always get the convenience of selling your property, at any time you are in need of capital. The growing demands of property in the district will never allow limiting the scope of real estate here. There are plenty of real estate investors available in Thrissur. Hence, there will be no difficulty for you to sell the property when you need to.
Flexible payment option
Currently, there are many flexible loan options put forward by banks and financial organizations for helping you to buy a house. The main highlight of the real estate business is that even if you buy a property by loan, you can be safe with the increasing value of the property year by year. Thus you don't want to limit your payment options in the field. If you are having ready cash, this is the right choice to make a good investment. Or if you are in a dilemma in going for mortgage loans, better invest in areas like Thrissur, you will never regret!