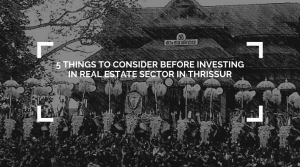 Thrissur is the cultural capital of Kerala offering wonderful sights and beautiful places. The city is well known for the epic festival- Thrissur Pooram. Other major attractions of Thrissur include the Vadakkumnathan Temple and Guruvayur Temple. Having such iconic places, Thrissur has gained importance over the years. Being a place filled with culture and tradition, people have dug out Thrissur. This has led to greater recognition for the place, attracting people to Thrissur. Investments have followed.
Real estate is a rising sector in Thrissur and from the very first day, there had been rapid growth. Investing in real estate in Thrissur is easier and reaps high returns on investments with the best benefits. Places like Thrissur, Kochi, Thiruvananthapuram, Alappuzha have been tremendous when it comes to real estate.
Factors To Consider Before Investing In Real Estate In Thrissur
1. Knowing the plot and the real owners
Instances can happen where you are being cheated by a "no one knows who" for their financial benefits when they claim to be the owners of a plot or property. This phenomenon occurs worldwide and it is the responsibility of the buyers to know who is the rightful owner and who is not.
It is important to get hands-on the original documents and meet up with the right owner to avoid misunderstanding and terrible events. Once you have assured the entire documents and owners are true and legal, you can go ahead with your proceedings. A single loophole can end you up in great trouble.
Knowing the plot is as important as knowing the owners. Crosschecking whether there are any illegal issues or tragedies behind the history of the plot, whether the land is corrupted or papers are forged; everything should be checked. Proper registration should also be ensured. All this is important because real estate investment is a deep investment and involves a lot of risks. A slight failure can lead to a huge loss.
2. Knowing the Risks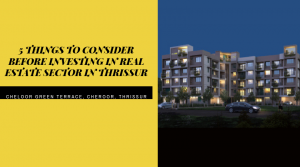 Certain plots are risky. There can be social or religious issues. Some issues can involve the hands of big business tycoons. Even though all this, plots and properties are open for investments in Thrissur. It is very important to understand the risks, even if these risks are natural. The location of the property is one factor that influences the risk of investment. Choosing a prime location property reduces the risk of finding a seller as the best lands always have people waiting to snatch it.
3. Calculate
Yes! Calculations are important. You should calculate your expenses and profit involved in the investment when preparing for investing in real estate in Thrissur. Only thorough research and calculation can give you a deeper insight into the investment that you have made. The most important factor to be noted is the return on investment. If you do not find it worth the money spend, then do not risk your chances. There always plots, properties, and apartments in Thrissur that reap high returns.
If the investment is in apartments or flats in Thrissur, make sure your profits are assured if you are renting, selling, or living in it.
4. Funding
It is advised to take financial support or loans for your real estate investments. This is to assure that risks are certainly less. It can also impact on your finance, positively. Investment loans have great schemes in Thrissur. Knowing your budget is important before you step into big games like real estate investments.
5. Market Knowledge
The most important factor to consider while investing in anything is the market of a particular investment. Property investment or real estate investment demands the same. It is crucial to know the plot or property and what you are willing to do with the property.
Purchasing an apartment or land in Thrissur without running background checks won't always end up fruitful. Knowing whether your land or property is accessible, open to facilities, worth the money, etc are very important. If renting out is an option you choose, your priority should be knowing whether people will be willing to rent such areas on the prices you require.