Advantages of living in a gated community luxury flats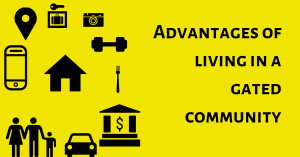 There are so many types of homes that one can choose from today that it becomes confusing for genuine home buyers. However, due to many reasons villa projects in gated communities are becoming a favourite amongst home buyers. Kerala too has embraced this trend of living in a gated community in a huge way. Living in such gated communities has its own advantages. Here are a few of the advantages you would enjoy as an owner of a property in a gated community.
Highly Secure Environment
Living in a gated community luxury flats will let you enjoy one of its greatest advantages- 24-hour security. The presence of an entrance gate and a security guard in a gated neighbourhood will keep burglars and vandals at bay, creating a safe and peaceful environment. A gated complex allows restricted access and also has CCTV surveillance to protect its residents from strangers, criminals and other anti-social elements. You can relax and even go on a long vacation without any worries about the security of your home.
Controlled Access
Gated communities luxury flats have controlled access to their residents. They maintain a proper record of the visitors that includes personal details and this, in turn, helps the security personnel to alert the residents in case of an untoward situation. Restricted access of gated communities also shields you from fraudsters who cite genuine reasons to enter your premises.
Sense of Community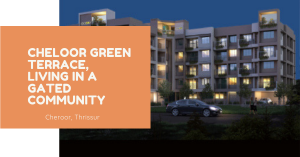 Living in a gated neighbourhood gives you a strong sense of community. Often, such communities form an association of the residents which conducts events, parties, picnics and social gatherings for entertainment and recreation. The social interaction among residents results in a good bonding between each other. You would find people who share the same interests and hobbies as yours. You can count on your neighbours for their suggestions, advice and even in the case of an emergency. Community living helps you lead a happy and balanced life.
Exclusive access to amenities
Another key advantage of gated community living is that it gives utmost priority to the leisurely activities of its residents. They provide a range of amenities that help you live a holistic lifestyle. The residents of luxury villas enjoy exclusive access to amenities like swimming pool, landscaped garden, and round-the-clock security.
Less Prone to Road Rage
Speeding vehicles are a common sight on the city roads. The area in the vicinity of gated communities witnesses less number of road accidents as the rash drivers are forced to slow down as soon as they reach near the entrance of a gated community. This assures the safety of pedestrians and of children who play outdoors. People living in gated communities are spared the noisy rush hours of the traffic in the city.
Offers good ROI
Investing in a gated community rewards the owners with better profits as these properties are highly in demand despite being expensive. Usually, the properties in a gated community tend to appreciate in value with time. Therefore your property offers a high resale value and good profits if you are planning to dispose of it in the long run. Thus you can be assured that your property in a gated community will offer you good returns in the future. Hope this article has provided you with an insight into the nuances of living in a gated community. Gated communities offer a perfect combination of safety and convenience required by you and your family
Looking for any flats or apartments in Thrissur. Please go through our projects located in Thrissur. Cheloor is an experienced and top builder in Thrissur offers a dream home in your affordable budget. Want to know more contact: + 91- 487 – 2388168.
Author: Sreekant